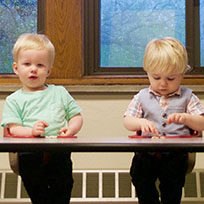 During the morning worship service the children engage in quiet, supervised free play. This play consists of activities such as puzzles, blocks, coloring, play dough and the reading of books. A snack of crackers and water is given.
During the second hour, the 2-3 year old's have a KBF (Kids Bible Fellowship) time from 11:00am - noon. The children are currently going through a series called the "Gospel Project". The Gospel Project takes the kids through the Bible, chronologically, from Genesis to Revelation. It will help the children "understand the Bible is not just a collection of stories, but one unified story – God's story of redemption".
Upcoming Events
There are no upcoming events.