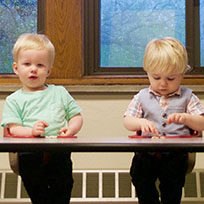 During the 9:30 AM worship service the children engage in quiet, supervised free play downstairs in Room L10. This play consists of activities such as puzzles, blocks, coloring, play dough and the reading of books. A snack of crackers and water is given.
During the 11:00 GroveU hour, children are stay in Room L10 and we are going through a series called the "Gospel Project". The Gospel Project takes the kids through the Bible, chronologically, from Genesis to Revelation. It will help the children "understand the Bible is not just a collection of stories, but one unified story – God's story of redemption".
Upcoming Events
There are no upcoming events.